Phoenix Network Technology (Author / Tian Shuzhen) On December 28th, Apple launched the Tiger's Special Edition Beats Studio Buds Really Wireless Noise Reduction Headset, with IPX4-level sweat resistance, the longest battery 24 hours, price of 1099 yuan, New Year's sale.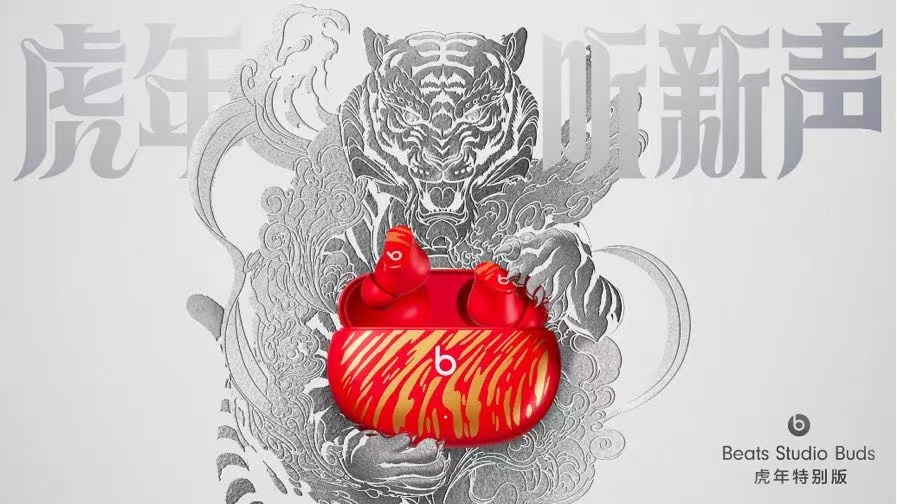 The headphones and charging boxes of the Beats Studio Buds Tiger Year use full red color matching, and with gold tiger pattern to celebrate the arrival of the Chinese Lunar New Year. The design continues to use the ear-type headphone box with the Beats Studio Buds headset and open the elliptical earphone box, and also support IPX4-level sweat resistance.
Beats Studio Buds Tiger's Special Edition Headphones Support ANC Active Denowing Technology, when the active noise reduction mode can isolate the extra external noise, the "B" tag on the headphone cavity is designed as a touch button, long press Switch between noise reduction modes and transparent mode. Beats also launched a set of advertisements named "Year of the Tiger Year" for the Tiger's Special Edition Headset to promote its noise reduction. The Beats Studio Buds built-in algorithm file, and the official calls can correct and clean up artifacts with damaged sounds per second. At the same time, the Tiger Special Edition Beats Studio Buds also supports the functionality of one-click pairing Apple and Android.
In terms of battery life, the official name Beats Studio Buds headset supports single longest 8 hours of listening time, up to 24 hours, while supporting Fast Fuel flashing technology, the official calls for 5 minutes, sustainable for 1 hour.
At the price, the BEATS Studio Buds Tiger's special edition was priced at 1099 yuan, which will be officially launched on January 1, 2022.