The meta-universe is still far away, but VR is very close. Riding the wind of the meta-universe, the VR industry, which has been silent for several years, is once again hot, and more and more Internet technology enterprises are making efforts to this track.
On December 28th, Playout Dream, which owns Bixin training partner and Fishnet Cafe, continued to march into the third business and released a YVR all-in-one machine, taking the first step in VR.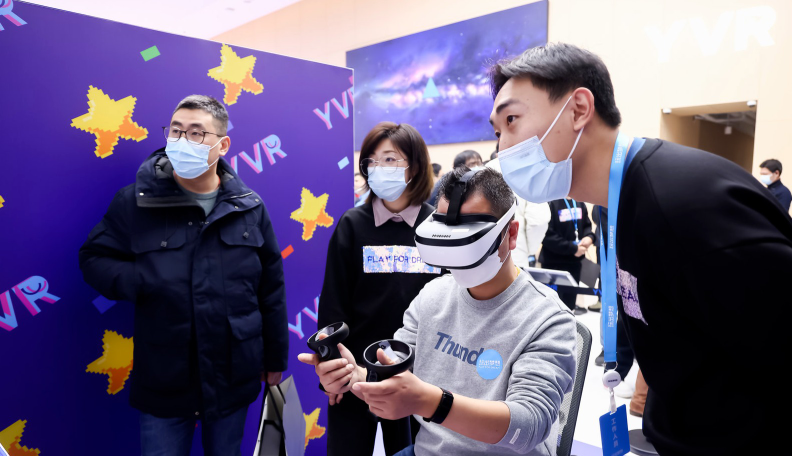 Attendees at the press conference experience YVR
According to Playout Dream, the YVR all-in-one released this time is one of the few VR products of Meta (formerly Facebook) Oculus Quest series in China. Equipped with a 90Hz HD display, Qualcomm XR2 chip, six degrees of freedom (6DoF) interaction mode and priced at 3,999 yuan, YVR is going high-end.
Dr.Frank, chief scientist of YVR, revealed in an interview that the technical team of YVR came from the ARTIFICIAL intelligence algorithm team in Silicon Valley and domestic VR industry enterprises, attracting talents from NetEase, Sensetime, DJI and other enterprises.In contrast to Oculus Quest, YVR is trying to reduce the vertigo problem common to VR. Oculus Quest has been able to make vertigo so low, he says, that by measuring its latency to less than five milliseconds, most users no longer feel vertigo or nausea. By optimizing the algorithm and hardware, YVR's latency has reached this level.
The reporter experienced YVR watching movies and games at the conference site. By adjusting the tightness of the device, the picture can indeed be quite clear and there is no vertigo. However, there is still the problem of heavy weight on the face after wearing the device for a certain period of time, which is also a common problem of VR equipment at present. The YVR all-in-one weighs 595 gigabytes, making it more competitive in its category. The most popular device on the market, Oculus Quest2, weighs 503g, and most users also report a heavy and tiring experience after using it for a long time.
Despite some problems, the VR industry may have passed its winter.
Previously, Hashiqi Founder Shen Haoran said that the company entered the VR field to make games in 2016, the first year of VR. At that time, the company thought that the spring of VR was coming, but later found that it was winter. "This year, the meta-universe is hot, and the spring of VR content production should really come, and now you can feel the temperature."
Research data shows that in 2021, global sales of consumer VR headsets will reach 12.5 million units, and total revenue of VR content will reach $2 billion. Just last month, market sources confirmed that Oculus Quest 2 had sold 10 million units a year after its launch. The industry believes that 10 million units are the "singularity" of the industry outbreak, VR/AR trend has been.
VR financing is also getting hotter this year. According to incomplete statistics, as of November this year, AR and VR related financing has reached more than 54 billion yuan, more than double last year's 23 billion yuan.
In the past few years, there have been several venture capital booms in vr, and then there have been cold winters. Dr.Frank believes that compared with the past, the current VR industry has improved and made progress in all aspects, including the improvement of hardware experience, algorithm tracking, content construction, the establishment of industry standards, diversified categories of head display, and so on.
Gong Yan, a professor at The China Europe International Business School (CEIBS), believes that 2016 was a year of bubbles in the market, but VR has already passed its disillusionment period. "It's been a cold winter for the past few years, and now the whole VR industry is slowly moving towards value return, towards the fourth phase of the curve."
At present, VR hardware market has formed a preliminary pattern. Meta (formerly Facebook) led the pack in the second quarter of this year with 75% market share, according to IDC, driven by huge growth in the Oculus Quest 2 product. Pico, DPVR and HTC ranked second, third and fourth respectively, with a market share of 6%, 5.7% and 4.5%, respectively.
In addition to the above brands, including Apple, SONY are also in the FIELD of VR. It is understood that Apple's first VR/AR product N301 iteration has entered the late stage of the third phase, and is expected to be officially launched in 2022. SONY's next VR headset, PS VR 2, will be retroactively compatible with all current PS VR games and may have a natural advantage in terms of content resources.
Chinese Internet technology companies are also betting on VR.In August this year, Bytedance spent billions of dollars to acquire Pico as its VR business. Earlier, Xiaomi cooperated with Oculus to own THE VR product Mi VR, while IQiyi VR all-in-one adventure has been iterated to the third generation. In addition, At the end of August, Alibaba set up hangzhou Datan Technology New Company, whose business scope includes VR equipment manufacturing.
The year 2021 is hailed as the true first year for VR industry to enter a new stage of development, and VR industry is also highly valued by the government.
"Accelerate the application of new equipment and equipment with new technologies, accelerate the development of ultra-high-definition video, virtual reality and other new information products, and promote the integrated application of 5G+4K/8K and VR/AR technology products," the Ministry of Commerce said in the notice of Implementation Plan for Accelerating the Cultivation of New Consumption issued this year. On December 21, Shanghai Municipal Party Committee pointed out on the economic work conference, "encourage enterprises to step up research on the future virtual world and the real society interaction important platform, timely layout cut."
Through the winter and disillusionment period, the VR industry has ushered in spring under the background of favorable policies and rising consumer market demand. Dr.Frank believes that the industry will see the emergence of new companies like Apple in the future, whose core is the consumer insight, the perfect combination of technology and humanity, and the market expects that day.