In the United States and Europe, the "Oimki" variabted strain is surging the number of cases per day infection. On December 27, local time, the US reported a new case of more than 500,000 cases, and the French new number of new cases was also close to 180,000 cases. A study in South Africa has shown that "Okeki" is replacing "Delta" becomes an epidemic strain; British experts say that new crown is no longer a new crown seen a year, this disease is tending to normal change.
A new study in South Africa shows that the immune response produced by the people infected with O'Kek tunains can increase more than four times. Scientists said that this means that people will re-infect the possibility of "Delta" variants will decrease, but also "O'K戎" will replace "Delta" becoming global new crown epidemic strains.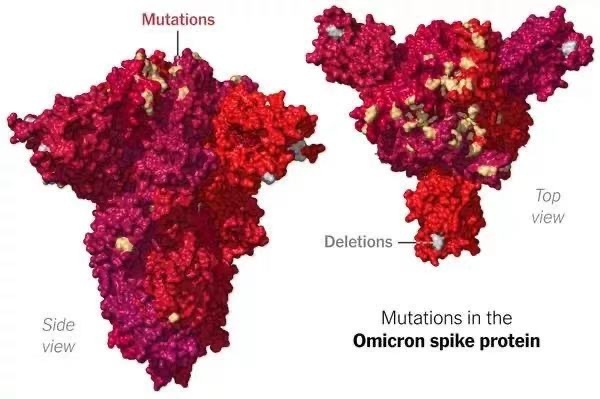 The real world research from South Africa and the United Kingdom has shown that although the "Okeki" communication speed is faster than "Delta", the patient is infected with the symptoms of "Okock" more gentle. South African scientists have found that compared with the "Delta" variability, the possibility of infected "Okeki" is 70% low.
But scientists can not determine this due to the poison of "O'K戎" itself, or due to people's immunity due to vaccination or have been infected with viruses.
According to the US Disease Control and Prevention Center (CDC) to last week's latest data, in the United States, "Okocra" variability plant accounts for 58% of the new crown confirmed case, more than 41% of the "Delta" variation strain . Previously, the United States expects O'Kki variability to account for more than 70%.
According to a survey of a family gathered infection on Tuesday, US CDC, the incubation period of "Okekiki" may be shorter. Six cases of "O'K戎" in a family confirmed in the United States in Braska, I found that the average latency period of family members had average symptoms of 3 days, shorter than new crown infections an average of 5 days of latency, also short In the "Delta" infection, the average 4-day incubation period, which also explains the reasons why the new crown confirmed cases in the recent countries have explosive growth.
Since a large number of new crown diagnosis cases are mild or asymptomatic, US epidemic prevention and control has tended to normalize. On Monday, US CDC adjusts an epidemic prevention strategy, it is recommended that the isolation period of the invisible new crown patient is shortened to 5 days before, helping them return to work and life faster, but asymptomatic infections still need to wear at least 5 days.
The US CDC also said that if the vaccination is infected with viruses, their isolation period will also be shortened to 5 days. If the vaccination and the reinforcing agent are infected, the virus may not be isolated at all. In addition, the symptoms have improved people, and after 5 days, they can also end isolation, but those with fever must wait until the burnt retreat.
The reason why the CDC is explained as a isolation period, which is due to scientific evidence that new crown virus spreads generally occur in the early stage of disease infection, that is, 1-2 days before the symptoms, and 2-3 after symptoms sky. Therefore, the new crown detection is positive, should be at least 5 days to minimize viral spread.
John, Royal Medicine, Oxford, and Government of Life Sciences, John, Joh Jahn Bell, has a reputation: "Infected O'K Triarse strain and the new crown disease we have seen a year ago, although the number of hospitalization has grown However, their hospitalization time is relatively short, and the average hospitalization time is shortened to three days, and the number of patients who need oxygen is also reduced. "
Sir Bell believes that with new crown diseases more "normalization", the UK's new crown high mortality "has become a history." However, some experts warned that there is currently no view of the infection rate in the elderly group. After the Western Christmas holiday, there will be an older infection, which will increase the number of new crown severe diseases will be clearer. .
Chi Leis Hopson, CEO of the British National Medical Services System (NHS Providers), said: "There are many family gatherings during Christmas, and several generations gathered together, now O'K戎 Infection does not produce a critical income, we are still watching. "