In corporate China, Laoganma is known for not being short of cash. However, on June 29, 2020, China Adjudicator website disclosed a civil order issued by nanshan District People's Court in Shenzhen, Guangdong Province, agreeing to the plaintiff Tencent's request to seal up and freeze the property of the defendant Laoganma Company worth about 16.24 million yuan.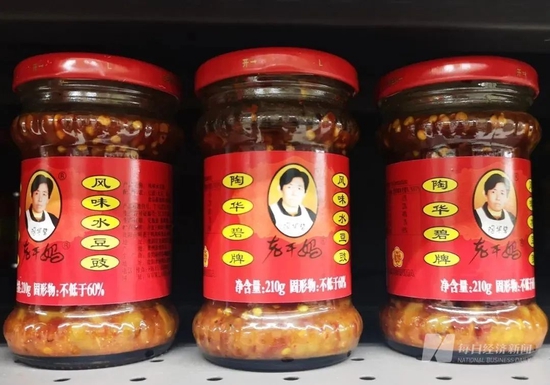 Photo source: National Business News Profile photo
Two well-known enterprises make court, cause great attention for a while, the truth behind the case also rises to the surface gradually.
At the time, Laoganma said Tencent had been duped and the company had filed a police report.
Then came a police briefing that raised eyebrows. According to the report, Cao mou and other 3 people forged Lao Gan Ma seal as a manager and Tencent signed a contract, has been detained.
On December 29, 2021, the Nanming District Court in Guiyang convicted three people of defrauding Tencent by posing as laoganma employees in the first instance, the Beijing News reported. The defendants were sentenced to 12, 7 and 6 years in prison respectively. Cao appealed in court, the report said, citing his lawyer.
Looking back, Tencent sued Laoganma in 2020.
On June 29 of that year, a civil ruling made by nanshan District People's Court in Shenzhen, Guangdong Province in April attracted widespread attention: Tencent applied for the seizure and freezing of about 16.24 million yuan of Lao Gan Ma's assets due to a dispute over contract services.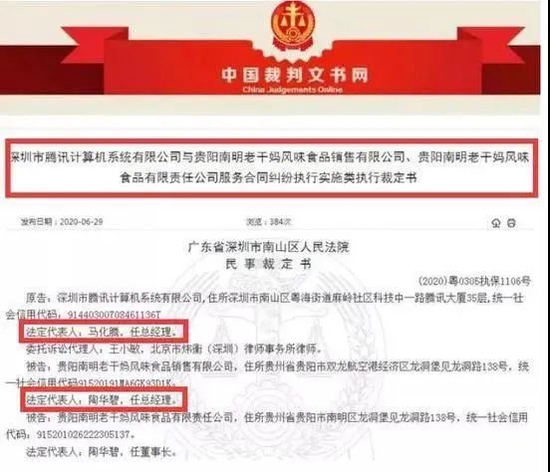 According to Tencent, in March 2019, Tencent signed a joint Marketing cooperation agreement with Laoganma, in which Tencent invested resources for the promotion of Laoganma oil pepper series. Tencent has fulfilled relevant obligations as agreed, but Laoganma has not paid as agreed in the contract. Tencent repeatedly urged the fruitless, so the law had to prosecute.
Tencent's alleged collaboration is alleged to be a collaboration between QQ Flying and Laoganma in 2019. Information in 2019 shows that Laoganma will be the industry partner of the year for QQ Flying Drivers tour S-League.
Laoganma was quick to respond.
On the evening of June 30, 2020, the wechat public account laoganma released a statement saying, "Upon verification, our company has never signed a joint marketing cooperation agreement with Tencent or authorized others with Tencent on the laoganma brand, and our company has never conducted any commercial cooperation with Tencent. We have taken legal measures to protect the legitimate rights and interests of the company and reported the incident to the public security organ."
According to Laoganma, the public security authorities decided to file a case for investigation on June 20, 2020.
On July 1, 2020, Shuanglong Branch of Guiyang Public Security Bureau announced that the criminal suspects Cao (male, 36 years old), Liu Xili (female, 40 years old), Zheng Mou Jun (female, 37 years old) forged the seal of Laoganma company, posing as the manager of the company's market operation department, and Tencent signed a cooperation agreement. Its purpose is to obtain Tencent company in the promotion of supporting online game package code, and then illegally obtain economic benefits through Internet reselling. Three people have been detained in accordance with the law for suspected crimes.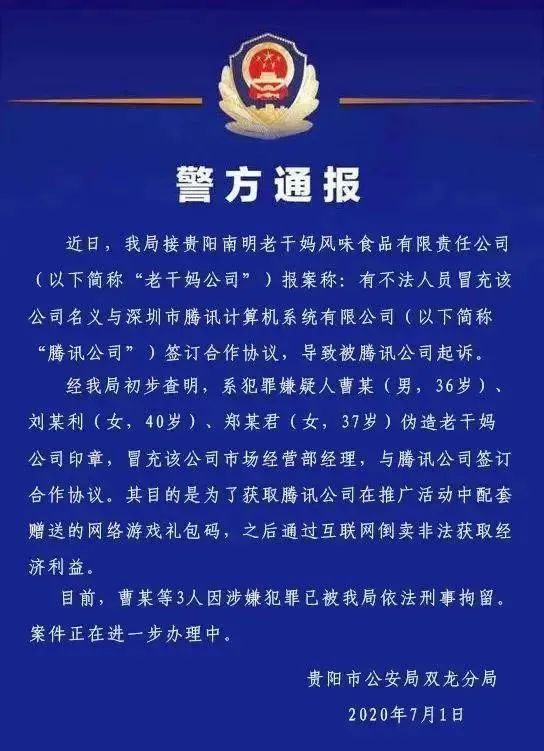 In the evening, Tencent responded to the laoganma incident on its official Weibo account, saying it was too long to explain, and in order to prevent similar incidents from happening again, it offered 1,000 bottles of Laoganma as a gift to collect similar clues.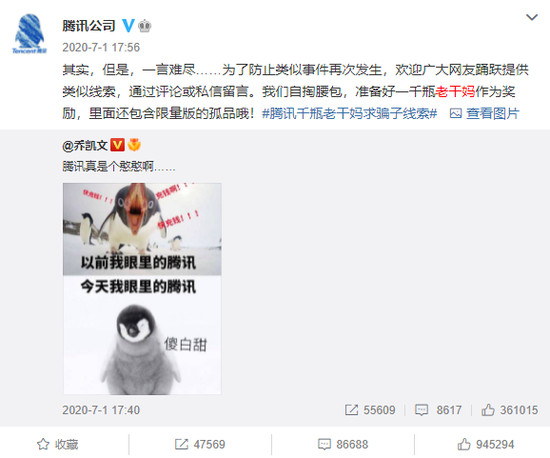 Tencent's official website B also posted a news feed saying, "The chili sauce suddenly stopped smelling good at noon today."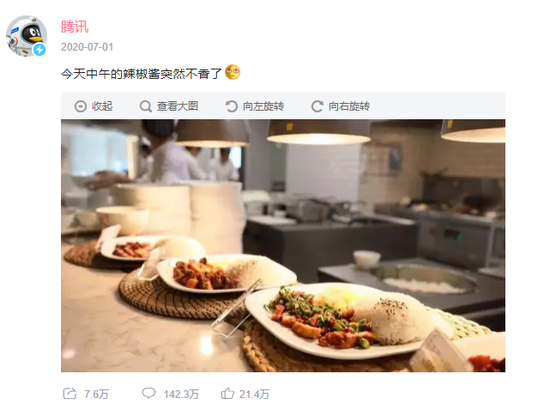 Thus, there is a "funny goose injustice" this meme.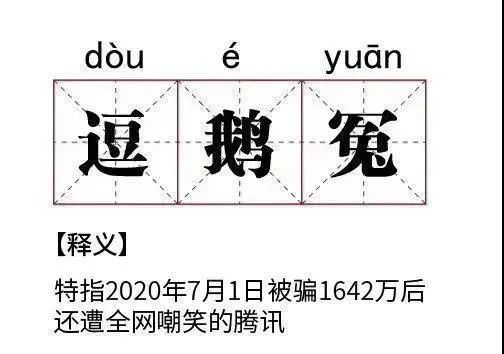 A few days later, Tencent and Laoganma issued a joint statement. Tencent has applied to the court to withdraw the property preservation application and the lawsuit, and reported the contract fraud to guiyang Public Security Bureau. Tencent and Laoganma will actively cooperate with relevant legal procedures in the future, the statement said. In addition, the two sides have had in-depth communication and have cleared up misunderstandings. Tencent has apologized to Laoganma in person for all kinds of misunderstandings and inadequacies in the process of the incident, and will further improve relevant procedures in the future.
In February, the Nanming District People's Procuratorate in Guiyang announced that cao and three other people were prosecuted in accordance with the law.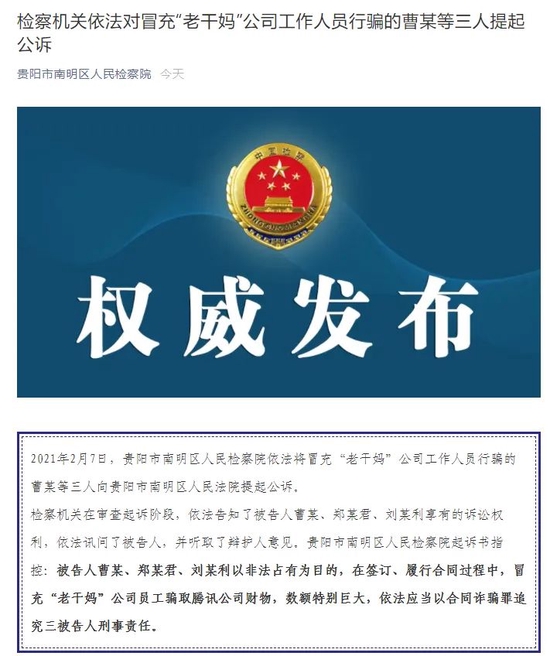 According to the indictment charges: the defendant Cao, Zheng Jun, Liu Xili in order to illegal possession for the purpose of signing, in the process of performing the contract, posing as "Lao Gan ma" company employees defraud Tencent company financial, the amount is particularly huge, according to law should be the contract fraud three defendants criminal responsibility.
Edit | Lu Xiangyong & have spent Du Hengfeng
Proofreading | He Xiaotao