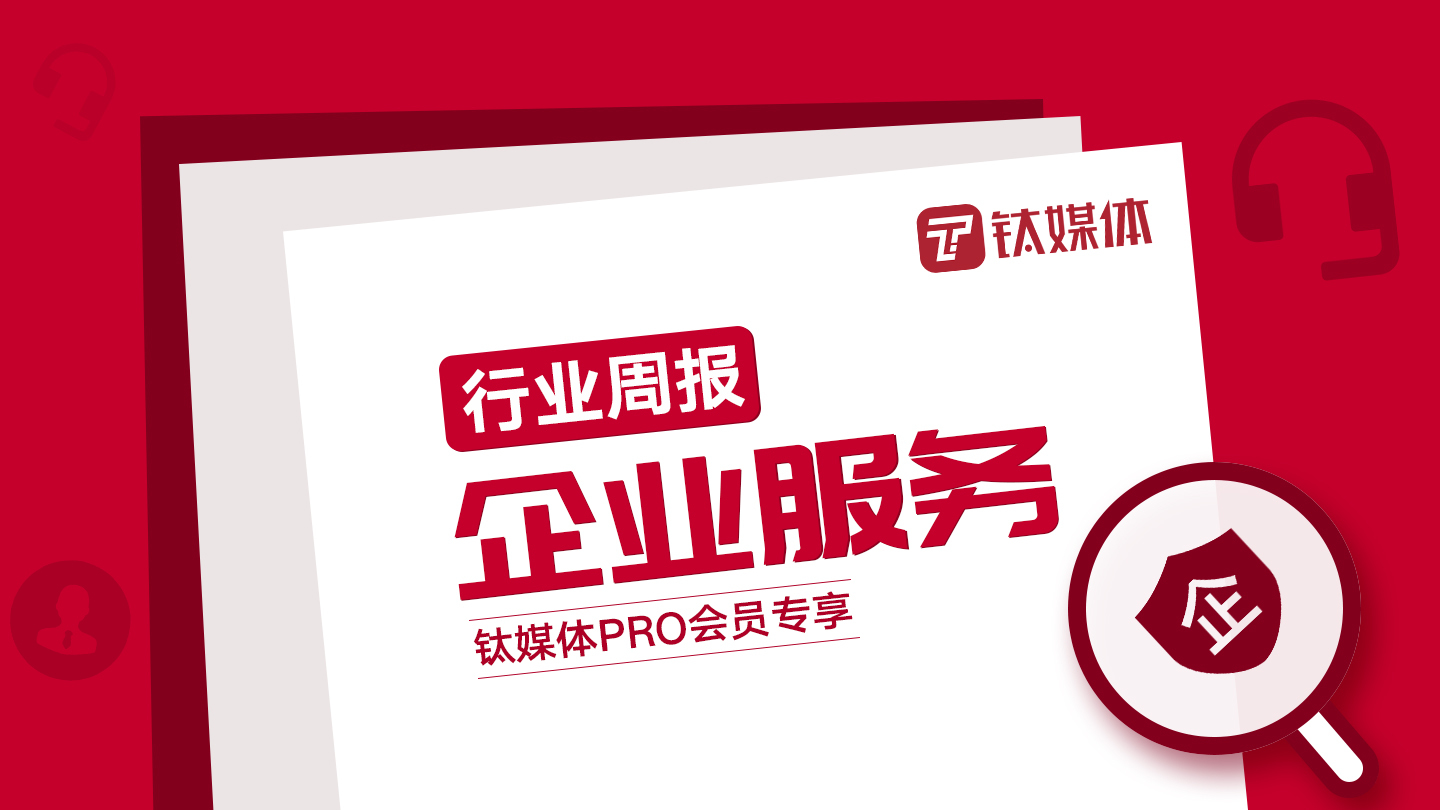 "Titanium Media Pro Weekly" collects weekly investment and financing events and hot spots at home and abroad through titanium Media TMTBase global primary market database, aiming to enable investors and entrepreneurs to clearly understand the trend and grasp the investment logic and the latest industry opportunities by way of time and data depth insetting.
Industry Report Directory
The full text of the report is 4062 words with 8 illustrations
1. Key industry introduction
2. Primary market dynamics
2.1 Domestic weekly financing dynamics (Figure: Financing project details/field/Stage / 100 million financing projects)
2.2 domestic titanium media Pro· Project recommend
2.3. One-week financing dynamics in foreign countries (Figure: Financing project details/field/stage / 100 million financing projects)
2.4. Foreign titanium media Pro· Project recommend
3. Investor views
4. Industry observation
5. Industrial policies
For project exposure and interview, please send project information to tmtpro@tmtpost.com
Heavy & middot; Point & middot; Guide & middot; read
In the field of enterprise services, there are 31 global investment and financing projects, including 16 domestic financing projects and 15 foreign financing projects. In terms of financing, there were 5 cases of financing in the field of domestic data service, ranking first, and 3 cases of financing in the field of information security and industry informatization and solutions, ranking second. There were 4 cases of financing in the field of foreign human resources, ranking first, and 3 cases of financing in the field of entrepreneurial services, ranking second.
In terms of domestic investment and financing, Secsmart completed round B financing of RMB 600 million; Cloud native infrastructure enterprise Xinghan will get ten million dollars angel round financing in the future.
In terms of foreign investment and financing, Web3.0 infrastructure provider RSS3 obtained strategic investment; PlainID, a cybersecurity start-up, has raised $75 million in Series C funding.
From December 20th to December 26th,TMTBASE global primary market database includes domestic and foreign enterprise service trackThere were 31 investment and financing incidents, including 16 domestic financing incidents and 15 foreign financing incidents.
Domestic weekly financing trends
➤ In all, 16 investment and financing events in the Chinese business services sector were listed this week in the GLOBAL primary market database of TMTBASE.
In terms of number of financing, there were five in data services, three each in information security and industry informatization and solutions, two each in cloud services and AI, and one in legal services.
From the number of financing, angel round 3, A round 2, A+ round 1, pre-B round 1, B round 3, C round 2, strategic investment 4.
➤ Three projects were unveiled this week, one in data services, one in information security and one in AI.
Domestic titanium media Pro· Recommended project
Data security
Secsmart completed round B financing of RMB 600 million
Secsmart information Technology Co., LTD. (Secsmart) is a state-level high-tech enterprise focusing on the field of data security. It applies artificial intelligence, quantum encryption and other technologies to data security, providing users with comprehensive, three-dimensional dynamic data security protection solutions. The main product series include data encryption, data desensitization, data leakage prevention, big data security, cloud data security, and data asset combing, etc. Headquartered in Hangzhou, The company's business covers major provinces and cities across the country.
Automatic defense platform zhongke Microlan received angel round financing of 10 million yuan
Zhongke Microlan innovatively applied knowledge Graph and other artificial intelligence technologies to the field of network security, developed the VulGraph vulnerability map, established the dynamic defense platform Vtopia through intelligent vulnerability management, improved the enterprise's ability to protect against security threats, had a first-mover advantage for attack automation, and realized the reversal of attack and defense cognition difference.
The product line provided by Zhongke Microlan is mainly oriented at two ends. One is for continuous monitoring of operation and maintenance scenarios, mainly including client testing of server, cloud computing, container and edge computing. Another product line is oriented towards open source ecology, that is, the whole supply chain is built based on the knowledge map of The Micro Waves of ZHONGke. Such products themselves are universal and can be applied to many scenarios. At present, its actual customer groups mainly face the government, science and technology, financial fields. In the future, with the promotion and implementation of industrial Internet and industrial Internet strategy, the demand for edge computing, industrial robots, IoT and other fields is growing rapidly.
The cloud service
Cloud native infrastructure enterprise Xinghan will get ten million dollars angel round financing in the future
Founded in June 2021, Starlight Future is committed to "making cloud computing power as on-demand as electricity" and strives to achieve "full hosting" of the entire computing resource governance -- developers only need to submit the code, and the system will perform automatic testing, automatic deployment, automatic capacity expansion, automatic governance, automatic failover and other operations. Star Han Future and HashiCorp (HCP) are both multi-cloud Infrastructure software. However, compared with HashiCorp's infrastructure-as-Code (Infrastructure as Code) concept, Backend-as-a-service star Han is committed to the extreme concept of backend-as-a-service. If successful, it could be as transformative as database-as-a-Service software has been for traditional warehouse software like Snowflake.
Data services
De Rui Ling xin completed the C round of financing, led by China New Technology innovation and CICC Capital investment
DERA Rayleigh brought new on June 17, was founded in 2015, around the development of enterprise needs, build from memory chips and controller design, manufacture, packaging, testing, module production, to marketing and service of complete ecological storage industry, for the enterprise data center, cloud computing platforms, and other fields to provide safe and reliable whole series of high-performance storage products.
Industry informatization and solutions
Lvzhou Technology A round of financing nearly 100 million yuan
Green boat technology since it was founded in 2015, through many years of r&d, building based on artificial intelligence + iot AIOS control center platform, at the same time, combined with the mobile Internet, cloud services, big data technology under the condition of the unmanned intelligent management, intelligent scheduling, intelligent monitoring, intelligent control and so on omni-directional integration solutions.
Now green boat technology research and development of unmanned intelligent AIOS station control system based on Internet of things, artificial intelligence, big data, intelligent voice, cloud computing, chain blocks, such as information technology, fusion of unattended in electric concept, in the city, supported by the monitoring center in power station, built in power plant information, operation and operational integration of comprehensive solutions.