IT Home reported on February 23 that Tencent announced that it will acquire The Canadian-based game studio InfantGames in a wholly-owned manner. Officials said that after the Tencent acquisition, the CEO of InflexionGames will remain in office.
The name InflexionGames may be unfamiliar to most players, and its parent company, Improbable, is not an old brand, and belongs to the lower technical aspects of the game. The company said its sale of the studio was part of its new strategic focus on "Meta-Universe" and accepted Tencent's acquisition because InflexionGames needed better publisher support.
Put simply, InflexionGames is a game studio made up of former BioWare developers, including former BioWare general manager Aaryn Flynn.
As a start-up team, InflexionGames' first game, Nightingale, was first announced at the 2021 TGA Awards and is expected to enter the Early Access phase in 2022.
Aaryn Flynn said Tencent's acquisition of Infoexion has been ongoing since the summer of 2021. So far, he said, Tencent has been "very respectful" of Inflexion's design direction on Nightingale.
We realize that they are not only the world's largest game development company, but also have extensive experience in creating engaging real-time services and engaging communities of players, and fully understand the culture necessary to create these services. "As this is an important part of our business plan with Nightingale, we are excited about this complementary expertise."
Flynn said Inflexion is looking forward to "partnering with Tencent to launch Nightingale's Early Access later this year."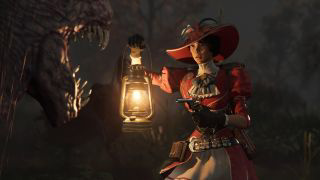 "While we're focused on accelerating the metaverse, we also want to make sure that the games we develop in our in-house studios are supported by publishers, and Tencent has a proud track record of bringing games to market," said Herman Narula, CEO of Improbable. "As a result, we simply didn't expect to find a better partner than Tencent for InflexionGames and Nightingale."
"It's an honor to work with the Tencent family," Flynn said. "The deep knowledge and expertise provided by Tencent's global team, as well as their empowerment of our team's independence and innovative spirit, provides a valuable opportunity for collaboration."