Recently, according to Reddit posts and a report on Cyber Kendra,Microsoft's DevOps account was hacked by LAPSUS$(LAPSUS), a group that previously hacked NVIDIA and Samsung.
The screenshot below was posted by Lapsus but was quickly deleted and saved by Cyber Kendra. The group claims to have access to some Of Microsoft's DevOps resources.
The post was reportedly deleted a few minutes after it was posted, with a message saying "temporarily deleted, I'll post later."
You can see some of the DevOps resources for the Bing and Cortana project source code.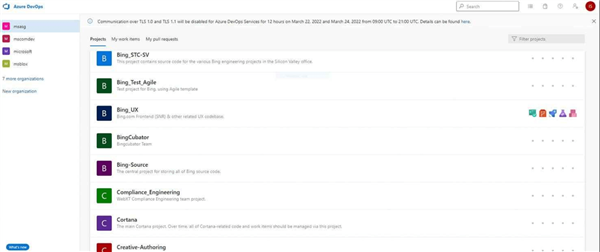 While the attacks on NVIDIA and Samsung Electronics have given LAPSUS$notoriety, it has long been notorious.
In December, LAPSUS$hacked the Brazilian Ministry of Health's website and stole 50 terabytes of data, leaving millions without access to vaccine data.
Over New Year's Day LAPSUS$hacked Impresa, Portugal's largest media group, bringing down the group's website, SIC TV channel and Expresso website, as well as telecoms network operator Vodafone.
With the popularization of global information technology, the number of hacker attacks is rapidly increasing, personal PC, enterprise official website, public service database and so on have become the target of hacker attacks, increasingly widespread hacker intrusion has become an important challenge to global information security.