Editor/Rui Liu
As U.S. inflation soars to nearly four-decade highs, U.S. President Joe Biden and Amazon's second-richest man, Amazon founder Bezos, have engaged in a "war of words" on Twitter, trying to put the blame for soaring inflation on the other side.
  Inflation is soaring as presidents and plutocrats throw pots at each other
The trigger for this "war of words" was a tweet from Biden last Friday. On Friday, Biden tweeted: "Do you want to lower inflation? Let's make sure the richest companies pay their fair share. "
Although Biden's tweet did not name Amazon, it still caused Bezos to be dissatisfied. Because Biden has repeatedly criticized Amazon's tax record, the object of this tweet's hint is also obvious. In previous years, Amazon had benefited greatly from corporate tax breaks, such as in 2017 and 2018, when the company, the largest company in the United States and the world, paid no federal income tax at all.
Bezos argues that there is no link between inflation and corporate taxes, and Biden is "misleading" the public.
Bezos wrote: "Raising corporate income taxes is negotiable. Curbing inflation is also a key issue worth discussing. To mix them up is just misleading. "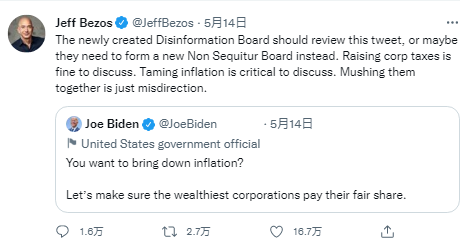 On Sunday, EST, Bezos issued a number of tweets to further criticize the Biden administration's approach to inflation.
He blamed the $1.9 trillion U.S. bailout package that Biden signed off on last March that fueled inflation, which hurt the poor the most. In April, U.S. CPI surged 8.3 percent year-over-year, beating market expectations and approaching its highest level in more than 40 years.
  The White House once again hit back at Bezos's "soft underbelly": taxes and unions
On Monday, White House spokesman Andrew Bates responded, once again hitting bezos on his weaknesses in taxation.
"It doesn't take much effort to understand why Bezos, the world's second-richest man, would oppose Biden's proposal for tax increases for the super-rich and corporations," he said.
Bates also referred to "unions" in a statement, saying: "It's not surprising that this tweet from the president was posted after he met with labor organizers, including Amazon employees." "
In fact, in addition to taxes, unions are also a "soft underbelly" that the Biden administration can use to target Amazon. In the 28 years since Amazon was founded, the global e-commerce giant has not formed a union. It wasn't until April at an Amazon warehouse on Stanton Drive Island, New York, that the first "grassroots" Amazon union was officially formed — a union that was initiated by Amazon workers themselves and not backed by national labor organizations.
Amazon is obviously not happy with this union, and they have taken many measures to prevent employees from forming unions, and they have also created a website against unions. The White House, on the other hand, supports the union. Earlier this month, Biden attended a meeting with union organizers, including Chris Smalls, the president of the Amazon union.
Subsequently, Bezos also continued to fight back, accusing the Biden administration of trying to "confuse the topic." Bezos writes: "They know that inflation hurts those who need it the most. But unions don't lead to inflation, and neither do the rich. "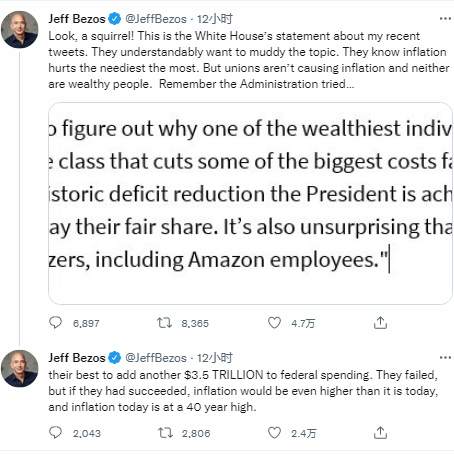 The "mutual hatred" that occurred on Twitter this time is the first public conflict between Bezos and Biden. Previously, Bezos was a frequent target during the tenure of former US President Trump. Trump has previously frequently accused Amazon of using the U.S. Postal Service and claimed that Bezos-owned Washington Post was Amazon's "lobbyist."
After Bezos resigned as CEO of Amazon last year, he became the subject of repeated criticism by Democrats when discussing wealth inequality in the United States because of his position as one of the world's richest people.