Article | & have spent   xu
Talk for a while before bed, there is a world in your dream, listener friends, hello.
An Internet celebrity blogger with millions of followers has appeared in a video cooking what he claims is a 'farm-raised edible' shark. Local authorities confirmed that the shark in the video was a great white shark, a second-class protected animal, after a netizen reported it. At present, the relevant people have been arrested by the police, and the case is being further handled, which has triggered a lot of criticism for the grotesque and bizarre online broadcast and short video content. We'll start with that story today.
On short videos and livestreaming platforms, cooking a great white shark may be unique, but it is not uncommon to find such "delicacies". These content often do not rely on clever cooking and delicious ingredients to win the audience's attention, but rely on images with enough impact. In May last year, a food blogger who ate the second-class protected animal "Conch snail" was detained under the law. The lesson is not far away, why do people still try the law? Some bloggers are obsessed with the novelty and rarity of ingredients to stimulate viewers' curiosity, or even to circumvent the law, probably out of anxiety about traffic. The phenomenon of crossing the line is frequent, which exposes the weak legal awareness and the lack of environmental protection concept of some bloggers.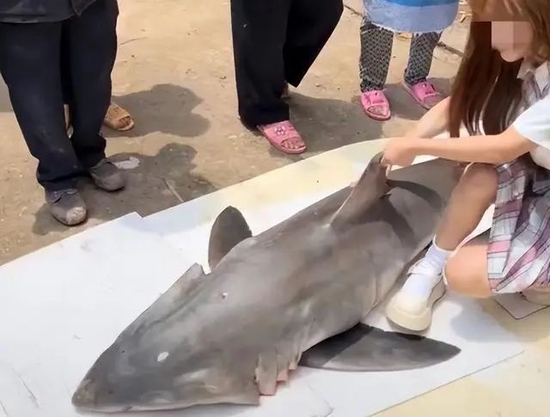 Photo credit: Chengdu Economic Daily
The problem is not confined to the niche of eating and sowing. Many people have seen such content on live streaming and short video platforms: "successful people" in suits and ties talking about the philosophy of life that money comes first; The hoarse shipper, peddling shoddy goods at the "lowest price of the year"; In the name of "friends" "sparring" and so on to play a marginal ball screen, filled with information flow home page... Some red institutions and blogger "color, ugly and strange, false, vulgar," as a password "flow", in the plot of a novelty attract eyeball, with a grandiose acting provoke emotions, trying to earn in the controversial flow, filled with the purse in the question, the result is damage to the user experience, also polluted the network space environment ecosystem.
The confusion reflects the similar dilemma faced by many practitioners in the network broadcast and short video industries. The highly homogeneous content exposes the shortage of creativity and the lack of innovation ability; For sensory stimulation blindly catering, behind the fierce competition between peers and the huge pressure of powder. In the industry, different vertical areas of content are called "track". Bloggers on the "track" rush forward in a rush as if they were running a 100-meter race, but they ignore that this may be a long-distance race that tests their ability and endurance, determination and confidence, and even forget their own goals and directions while running. If blindly what threshold is low to do what, what has the flow of what, and can not find their own positioning and characteristics, and do not focus on improving the quality of content, it is likely to fall into the "only flow" rut, leading to the sword.
The content is a real traffic password, featuring a real powdery artifact. Some people say that there is no shortage of bloggers on network broadcast and short video platforms, but there is a lack of professional and interesting bloggers. There is no lack of content, but there is a lack of quality and distinctive content. To some extent, this speaks to the audience's expectations. On some platforms, videos that record the local conditions and customs of great rivers and mountains and popularize scientific knowledge of heaven and earth have become popular, bloggers who explain the special food recipes from all over the world are popular, and live broadcasts that share the highlights of ordinary life and ingenious ideas have many likes... What these contents have in common is sincere love, solid foundation, valuable "dry goods", and the resulting unique temperament and style characteristics. It is possible to imagine that with more innovation and creativity and less cookie-cutter template application, and more refined products and less crude production following the trend, the content ecology of network broadcast and short video will be richer and better.
Cyberspace is the spiritual home of hundreds of millions of people. Relevant departments have been taking action to address the chaos in online live broadcasts and short videos. Since April this year, a three-month special action aimed at "color, ugly, strange, fake, vulgar, gambling" and other illegal content presented chaos, strict control of dysfunctional function, "Internet red chaos", malicious marketing and other prominent problems, promote network broadcast, short video industry information content present appearance to achieve a preliminary change. The Code of Conduct for Network Anchors issued not long ago systematically and comprehensively regulates the behavior of network anchors, which is helpful to improve the overall quality of network anchors and standardize the order of the industry. Strengthen the construction of network anchors' professional ethics, every practitioner abide by the law, set an example, upward to the good, so that there is no escape from chaos, so that the cyberspace is clear.
That is:
Flow is very important, take it also has a way.
Where's the password? Number one.