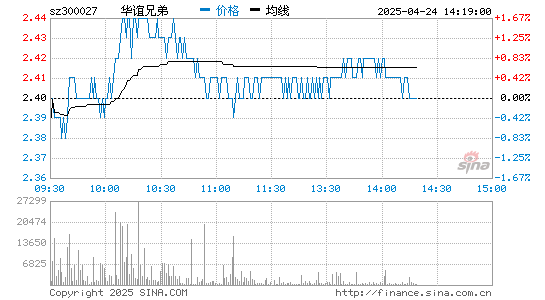 Check the latest market
The text/wu chi
After Heilan home, Jingdong, Backgammon, another listed company suffered Tencent holdings. This time it is A-share film and television giant Huayi Brothers (300027).
On the evening of August 5, Huayi Brothers announced that Shenzhen Tencent Computer System Co., LTD., a shareholder holding more than 5%, had accumulated through bulk trading and participated in securities lending from August 2 to August 4, 2022, leading to a change in its shareholding ratio of more than 1%.

Tencent's stake in Huayi fell to 4.99% from about 7.94%. After the change, Tencent Computer is no longer a 5 percent shareholder in Huayi Brothers.
  Tencent has held shares for more than 10 years
Tencent's investment in Huayi Brothers began in 2011. Tencent first invested in Huayi Brothers by buying shares held by Jack Ma, Yu Feng, Jiang Nanchun and others.
According to the announcement issued by Huayi Brothers in May 2011, the company's shareholders Ma Yun, Yu Feng, Jiang Nanchun, Gao Min and Wang Yulian sold a total of 27.8 million shares of the company on May 6, 2011 through bulk trading, at a selling price of 16 yuan per share, accounting for 4.6% of the total capital of the company.
That stake went to Tencent, which became Huayi Brothers' fourth largest shareholder. Ahead are Wang Zhongjun, Wang Zhonglei and Jack Ma.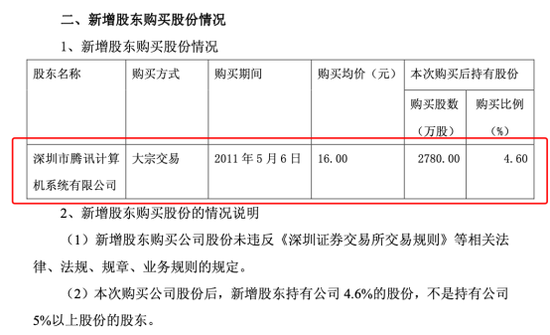 Since then, Tencent has repeatedly added capital to Huayi Brothers.
According to the announcement of Huayi Brothers in November 2014, Tencent planned to buy 51.55 million shares of Huayi Brothers in cash at the price of 24.83 yuan per share, costing nearly 1.3 billion yuan. By 2015, when the subscription was completed, Tencent held more than 8% of Huayi Brothers' shares, making it the second largest shareholder.
Since 2015, Tencent's stake has fallen to about 7.94% due to stock option exercises and other matters. But Tencent did not reduce its stake in Huayi Brothers until August.
From August 2 to 4, Tencent reduced its stake in Huayi Brothers by 53.89 million shares, accounting for 1.94 percent of the company's total capital stock, at an average price of 2.2 yuan per share, according to the announcement. In addition, Tencent lent 27.745 million shares through its participation in Rongtong Securities, reducing its stake in the company by about 1 percent.
Together, the number of reduced shares reached 81.638 million, accounting for 2.94% of the total capital of Huayi Brothers.
Since 2015, Huayi Brothers' share price has been "falling and falling". From the price of the reduction, Tencent in Huayi Brothers investment, it is a heavy loss.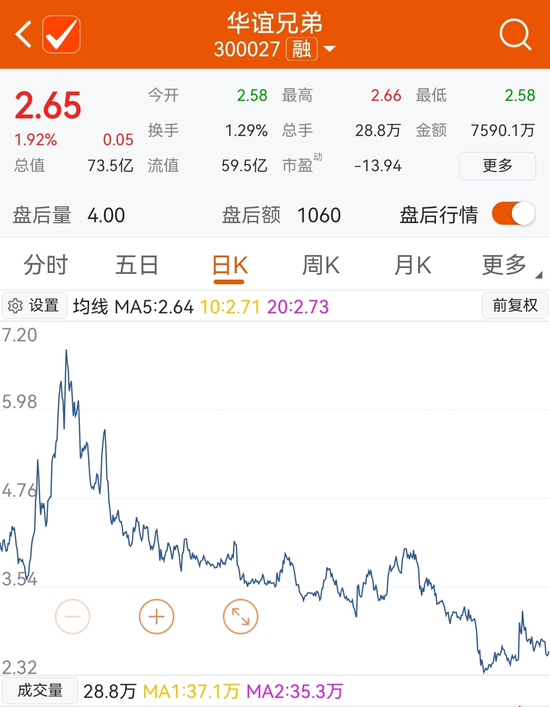 The sale brings Tencent's total stake in Huayi Brothers to less than 5%. However, Tencent's stake would still exceed 5 per cent if the roughly 1 per cent of Huayi Brothers shares involved in the Rerongtong securities loan business were recovered after the loan period.
  The "luxury Circle of Friends" enjoys close cooperation
Huayi Brothers has an opulent roster of shareholders. Before Tencent, Alibaba had invested in Huayi Brothers. After the listing of Huayi Brothers, "Ali" and many times to increase the capital of Huayi brothers.
By the end of 2021, Hangzhou Ali Venture Capital Co., Ltd. held 4.47% of Huayi Brothers' shares, making it the third largest shareholder of the company. Together with Mr Ma's 3.6 per cent stake, the Alibaba group holds more than 8 per cent.

Huayi Brothers is one of the few companies to be invested by both Alibaba and Tencent, and its "luxury circle of friends" has become one of its advantages in the film industry.
Huayi brothers has previously said in a statement, the company accumulated in many years of business development in a number of long-term and stable strategic partnership, in addition to major cinema, television, video web site, and the international film company, tencent, ali, and peace, such as the Internet ecological and financial companies, these partners trust and support, To a certain extent, constitute the resource guarantee of the company's leading position.
In terms of actual business cooperation, however, Huayi Brothers has a closer relationship with Tencent.
Early in December 2011, huayi brothers with tencent signed a strategic cooperation framework agreement, agreed to build operating "huayi zone" channels, information network transmission right investment authorization, filming movies, dramas of fine operation and integrated marketing, its multiplatform linkage projects such as propaganda and promotion in-depth cooperation.
Again in November 2014, the two sides signed a "strategic cooperation framework agreement, the agreement in the business areas for a variety of game mode of cooperation, establish a regular high-level communication mechanism, and actively explore tencent game platform and huayi brothers business of various cooperation modes, and through such cooperation to help the development of huayi brothers games business.
In recent years, the two sides have cooperated in the production and distribution of many films and TV dramas. Tencent has almost always been among Huayi's top five customers, according to company announcements.
In recent years, due to the influence of multiple factors, Huayi Brothers' operating conditions have deteriorated, with consecutive losses in performance and continuous decline in stock price. However, Alibaba and Tencent continued to support Huayi Brothers until 2020.
In April 2020, Huayi Brothers issued a private placement plan, which planned to issue 824 million shares at the price of 2.78 yuan per share, raising no more than 2.29 billion yuan.
It was issued to nine companies, including Alibaba Pictures, Tencent Computer and Sunshine Life Insurance. Among them, Alibaba Pictures and Tencent Computer will each pay up to 100 million yuan for the shares issued by Huayi Brothers. The funds raised are expected to be used to replenish liquidity and repay borrowings.
But the offering didn't go well. After many revisions and reviews, the target of the issue has been changed from the initial 9 companies to no more than 35 specific targets. But so far, the matter is still moving forward.