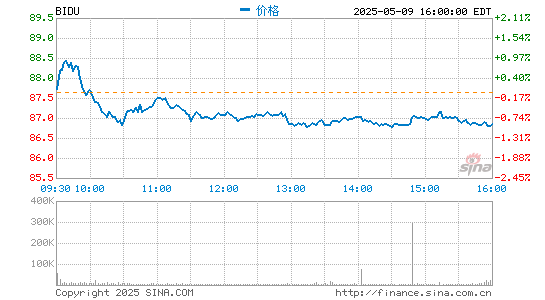 View the latest market
Sina Technology News On the afternoon of August 5th, Beijing time, Baidu (NASDAQ: Bidu) announced today that it will be released before the opening of the US stock market on August 30, 2022, Eastern Time, 2022 The second quarter of 2022 financial report.
After the financial report was released, the Baidu Management Team will convene a conference call at 8 am on August 30, 2022 (Beijing/Hong Kong time) at 8 am (Beijing/Hong Kong time).
Before the conference conference, please use the link provided below for online registration. The registration link is: https://s1.c-conf.com/diamondpass/10024320-jfgv94.html.
After registering, Baidu will send the number, password and the registered ID through an email. At about 10 minutes before the conference conference meeting, use the above information to join the call.
After the conference call, until September 7, 2022, you can dial the following telephone to listen repeatedly:
United States: 1855 883 1031
Conference ID: 10024320
In addition, the Baidu website investor relationship channel http://ir.baidu.com will live broadcast on the conference call and provide recording.